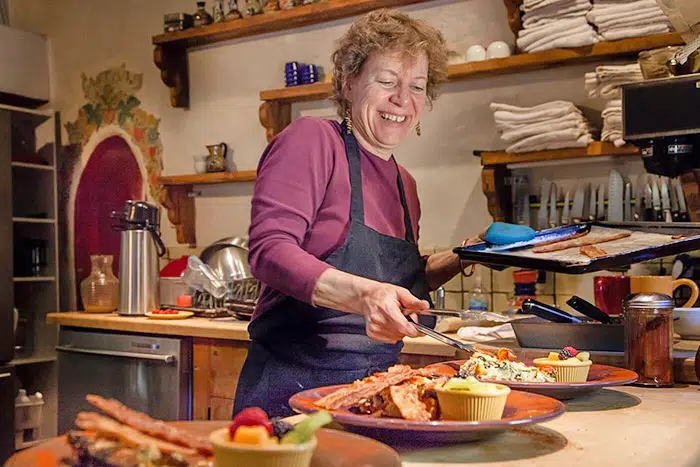 Christine Scypinski's friends tell her that she always talked about becoming an innkeeper. But it took a career in landscape architecture and urban planning in Pennsylvania and Boston, five years in the Peace Corps in East Africa, as well as an internship with a Maine bed and breakfast owner to make her dream come true. That it happened in Taos, in northern New Mexico, is part of the story.
As a landscape architect, I'd go on garden tours and historic house tours, which often included inns and bed and breakfasts. I'd talk with the owners and get tips on running them, just gathering information. You can't beat B&Bs for uniqueness, whether that's of the property, building, or each room, especially in New Mexico. The New Mexico Bed & Breakfast Association is a great resource to find these one-of-a-kind places to stay. 
When I looked for an inn to buy, I actually considered the Adobe & Pines Inn Bed & Breakfast, in Taos, when it was for sale two owners before me. But then I got cold feet. After I took an aspiring innkeeper course, I quit my job and became an intern with an owner. I was ready. The Adobe & Pines was for sale again, so I visited, fell in love, and bought it in 2015. I lost 30 pounds that first month training with the previous owner trying to keep up!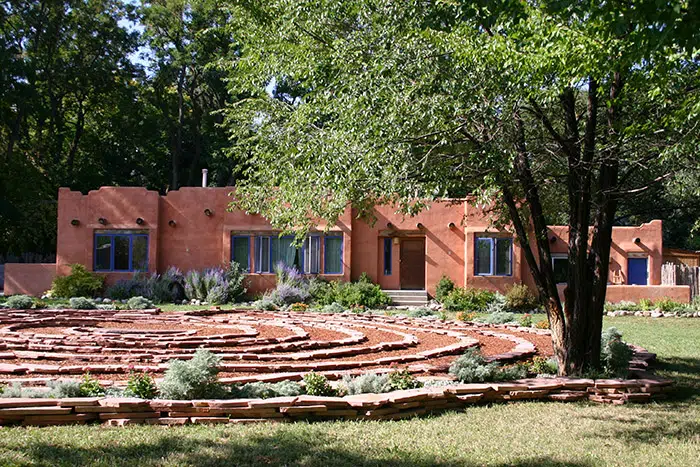 I had been to New Mexico and Taos on road trips, but I don't think I saw a whole lot. I'm sure I visited the Taos Pueblo but didn't remember the town. I know now that it was the landscape that drew me. Taos sits in a rift valley, a very special kind of geology that I also saw in Uganda. These are the cradles of civilization.
Taos is always a destination in demand, and we've got lots of outdoor spaces and separation between buildings and air systems. We switched to contactless check-in and -out, and added tables and chairs for eating outside and inside the rooms. Owners usually live on-site, like I do. There's a sense of intimacy that comes from us being curious about our guests. We know you like this kind of coffee, or hate bananas, or have a dog. You become friends with your guests. 
Our main building is a historic 1832 adobe hacienda. The Grand Portal has a fresco created in the 1950s by Taos Pueblo artist Juan (Jo Wo) Mirabal. In the 1930s, the house was a cultural salon for artists such as Frieda Lawrence, Dorothy Brett, Gisella Loeffler, Andrew Dasburg, Mabel Dodge Luhan, Alexandra Fechin, John Young Hunter, and Joseph Fleck. We're part of the 21st century, too, with Tesla chargers and high-speed internet.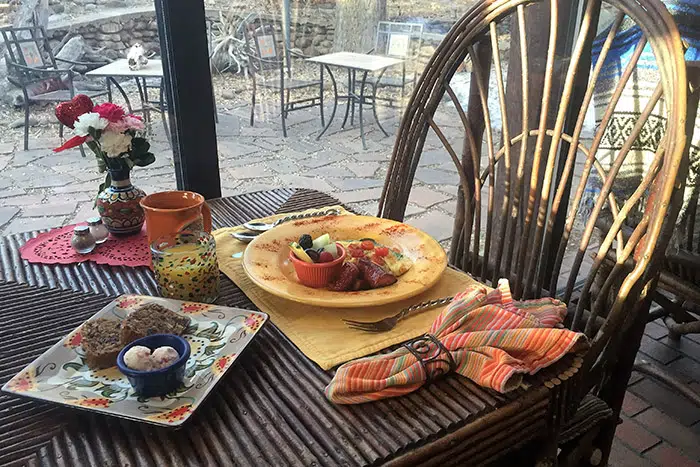 We're also a good spot to just hang out, which a lot of our guests do. Our three acres of grounds include a Zen garden and a labyrinth, an orchard, and an acequia—an irrigation system that Spanish settlers brought to the New World. We're also just a short walk to Ranchos de Taos Plaza, where the historic St. Francis of Assisi Church is, with its famous adobe facade painted by Georgia O'Keeffe and captured by photographer Ansel Adams and other artists.
I still make all the previous owner's recipes, like migas, blue corn atole, and vegan pumpkin pancakes. She was a gourmet chef, and many of our guests return year after year and want their favorite dishes, and many times their favorite rooms. That's a wonderful part of the B&B experience: returning guests and their stories.
ADOBE & PINES INN • Christine Scypinski
4107 State Road 68 • Taos, New Mexico • 575-751-0947
www.adobepines.com • mail@adobepines.com
Facebook: AdobePines • Instagram: @adobepinesinn