Mary Beth and Boyd Earl thought about leaving healthcare and law for a new lifestyle as innkeepers long before they left Buffalo, New York, for the mountains of New Mexico. A former law colleague of Boyd's had done it. But without much preparation or research into what running a bed and breakfast might mean, when their youngest child graduated from high school the married couple hit the road in search of opportunity. In 2018, they started in Colorado where Mary Beth has family, and kept driving south until they arrived in Taos.
"Coming from Buffalo, where there's not a lot of sun and too much snow, we fell in love with Taos. And I didn't want to be born, raised, and die in the same state," says Mary Beth of the move. "The people in Taos are interesting, laid back, and the sky is so vast and open. I love the shades of the landscape and mountains – and the subtle changes that you see all during the day."
Boyd appreciates Taos quirky, artsy small-town vibe, too, with more things to do than other places its size might offer: music, great food, cultural amenities, and easy access to outdoor activities. Neither of them misses big city traffic, either. But it was the Dreamcatcher Bed & Breakfast itself that sealed the deal for the transition.
"Part of the allure of the Dreamcatcher was being less than a half-mile from Taos Plaza, but part of a quiet residential neighborhood," says Mary Beth, the more social of the pair. She needs people around her and a way to serve them, something that she brings from her many years as a nurse practitioner. "Being my own boss is great – no one is looking over my shoulder. And I also love to cook and talk with the guests. People who come to bed and breakfasts are generally nice, easy-going people. We love to hear stories of their travels and help them plan what they will be doing here in Taos."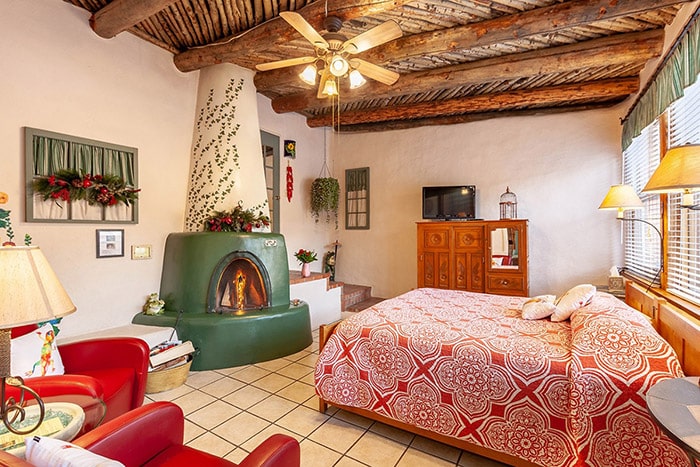 For Boyd, the beautiful property itself and the private outside entrances to each of the seven accommodations at Dreamcatcher were the deciding factors. One aspect of some inns they'd visited that he didn't like was having guests walk through the common areas to get to their rooms. Since purchasing the inn, the Earls have added an addition, upgraded technology, renovated the casitas, and spent countless hours updating the extensive gardens.
"We found out how different gardening is here from Buffalo," says Boyd, who assists with breakfast before heading to his office, where he specializes in personal injury and medical malpractice law. He also spends one week a month back in Buffalo, continuing his law practice there and visiting two of the pair's three children.
The couple's love of and extensive travel before switching to the other side of the check-in desk made their transition easier, they say. "We've been all over the world, and this helped us to understand other cultures and what guests appreciate and want when they travel," says Mary Beth. "We often wished for hotels or inns to have certain things when we stayed, and we make sure that those things are here."
Despite having their own travel curtailed by the duties of being full-time innkeepers, a fortunate result of their ability to connect with guests is that they now have friends all over the world.
"When guests return, they bring their friends, or we go out to dinner with them and have been invited to visit them where they are. We've even had a couple stay in the place we own in Ecuador, and it's on our list to visit their Northern California ranch," says Boyd. "It's interesting to meet people from all over the world, and talk to them about their own travels, because we've likely been there, too."
DREAMCATCHER BED & BREAKFAST Mary Beth and Boyd Earl
416 La Lomita Road • Taos, NM 87571 • 575-758-0613
www.dreambb.com • dream@dreambb.com
Facebook: DreamcatcherBandB