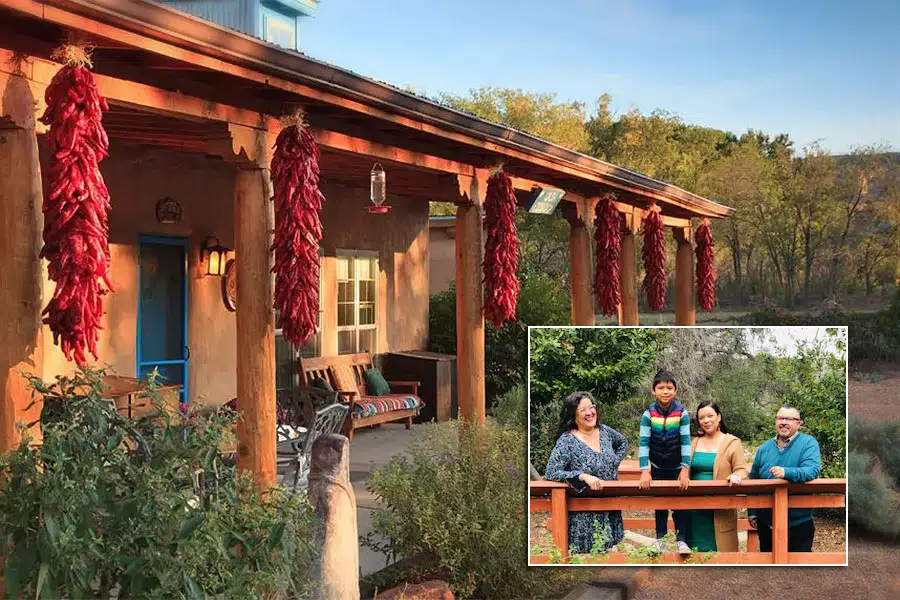 The fantasy of owning a bed and breakfast has become a reality for Ernesto Quintero. He, along with his wife Renee Quintero Sanchez and her cousin Kim Sanchez, became the owners of Casa Escondida in Chimayó in February 2022.
"This has been the culmination of a very long process," says Ernesto. "In 2004, Renee and I were flying home from our honeymoon, and I said I wanted to be an innkeeper. On my next birthday, Renee gave me a book about being one. A lot of people dream and talk, but we're doers. It just took a while."
While nothing about their backgrounds would directly lead to taking over Casa Escondida, Ernesto's background owning small businesses and a restaurant, and Renee's as an attorney, put two-thirds of the innkeeping puzzle together. Now they needed a full time, on property presence. Enter Kim, whose background in retail and customer service translates perfectly to hospitality. She's now the day-to-day property manager. Ernesto and Renee commute periodically from their base in Southern California.
But don't think of them as absentee owners. Renee's family is originally from New Mexico – her grandfather was born and raised in Belen, south of Albuquerque, where most of her extended family now lives.
The small village's beauty immediately captured Ernesto. "I fell in love with it from the first time experiencing Northern New Mexico and the Chimayó area. I felt it in my bones. We didn't know that the bed and breakfast existed, but we looked up inns in the area at the time and got on lists of inns for sale. It wasn't for sale then, but when it popped up later, we couldn't believe it."
Though she grew up in Los Angeles like Kim and Ernesto, her mother forged a vital link and close connection to New Mexico. "We were back and forth from Los Angeles to New Mexico all the time," she says. "Chimayó was not new to us. In fact, I took Ernesto there in in the early 2000s when we first met. And we visited the Santuario there with my grandfather, because of our Catholic background."
Fast forward to July 2021. While celebrating Ernesto's 50th birthday, an email arrived from a broker about Casa Escondida. "We jumped on it! I emailed back within seconds, then showed the message to Renee, hoping she agreed. And she did! Then there were so many twists and turns, ups and downs, and at one point we thought it wasn't going to happen at all," he says.
The three partners feel like it was serendipity that brought them together with Casa Escondida. "It became more and more clear that this wasn't just about us wanting to buy a B&B," says Ernesto. "It was about this B&B."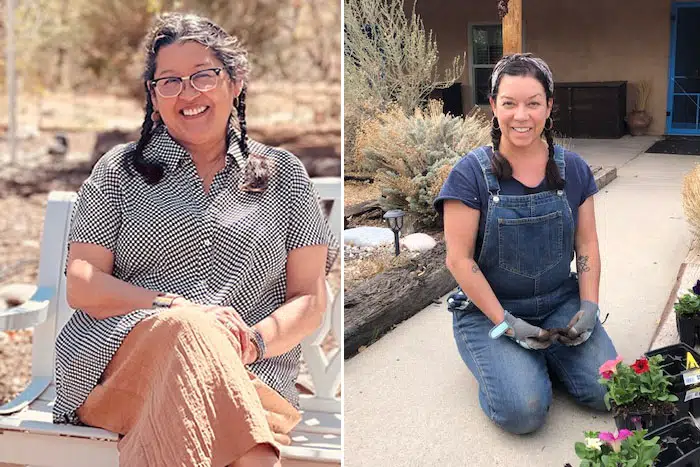 After unsuccessful negotiations with brokers, Ernesto and Renee went directly to the previous owner for a heartfelt conversation, hoping to seal the deal. Renee had already walked the property and followed up with a personal letter explaining how much in love with the inn they were. So serious about this B&B, they even decided that they'd stop their search this last attempt didn't succeed. Fortunately, their extra effort paid off.
Says Kim, of her relocation and immersion into the innkeeping lifestyle, "It's a lot of work and a steep learning curve, but with a sense of independence and agency that I love. It's one thing to work for others, and another to work with people I know and love and in our business. We're driving it and creating the space for guests. That makes a difference. Waking up really early to get to the kitchen, walking out the door, seeing the gorgeous, blue sky and the sunrise, is affirming every single day."
CASA ESCONDIDA B&B • Ernesto Quintero & Renee Quintero Sanchez
64 Co Rd 100  •  Chimayo, NM 87522  •  505-295-5295
www.casaescondia.com  •  info@casaescondida.com
Facebook: casaescondidabnb • Instagram: @casaescondidabnb