Before Becky met Michael O'Connor, she traveled. She stayed in bed and breakfasts where guests were welcomed and treated like family. Often these old-school innkeepers would provide both breakfast and dinner for guests. Ever since those intimate experiences, Becky had wanted to run a place that felt more like a home than a commercial venture.
Then she met her husband in the mid-1980s. Michael, a former professor of geology, was starting a consulting practice in Portland, Maine. He needed business stationery. Becky owned a printing business there. Their chance meeting resulted in a marriage now going on 34 years.
A vacation to Ireland in the late 1980s impressed the couple so much that they sold Becky's business, uprooted to the Emerald Isle, and bought and transformed an old Irish farmhouse in County Kerry into a bed and breakfast. This first foray into the world of innkeeping – Becky concentrating on the guest experience and Michael leading nature-oriented outdoor excursions – lasted almost seven years. But someplace dryer and sunnier called, as did a return to the United States. To a place where they could provide the European-style hospitality they loved with a year-round, back-to-nature experience.
"I'd spent time in New Mexico as a student taking field courses in geology," says Michael. "The Gila National Forest and Wilderness are legendary, as is this whole area of Grant and Catron Counties. The wilderness is truly pristine, yet open to the public all year."
And so in 1998, the couple purchased 71 acres near Silver City, part of a ranch dating back to the late 1870s. "Over the years, we've added on to protect more land from development," says Becky. "We now have 265 acres that border a 6,000-acre state wildlife reserve, with its unlimited hiking, camping, and beauty."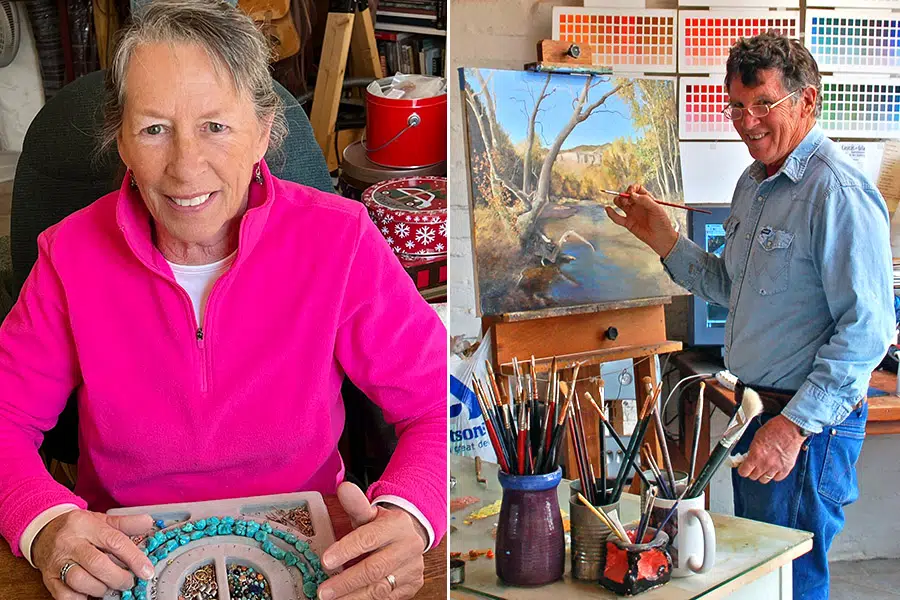 Michael's background finds excellent use, too. The O'Connors have created miles of nature trails in a perfect retreat for those seeking connection to the natural world. His blog on the inn's website, designed to be a guide for those with or without outdoor experience, chronicles the area's history, wildlife, and activities.
"My focus from the beginning has been the nature end of it," says Michael. "How to create a place to escape cities and get back into nature. It really helps people to escape the city and reconnect with nature – because as long as there are cities, people need to get out of them."
For both of them, meeting guests is the highlight of their profession. They also say that living the innkeeper lifestyle, and offering a sanctuary where guests don't have to leave except to get groceries, is one they are fortunate to do. The Casitas' five guesthouses, true "little houses," provide a self-catered experience (kitchens stocked for breakfasts and equipped for meal preparation) and private outdoor areas. Interactions between guests, and guests and innkeepers, can happen but aren't required.
Becky jokes that Michael will always be a teacher who loves to expound on the area's geology and natural features to whomever will listen. "That is the most rewarding for him –getting to share the area. When people come here, they often know so little about what's sprawled in front of them. He just loves to share that," she says.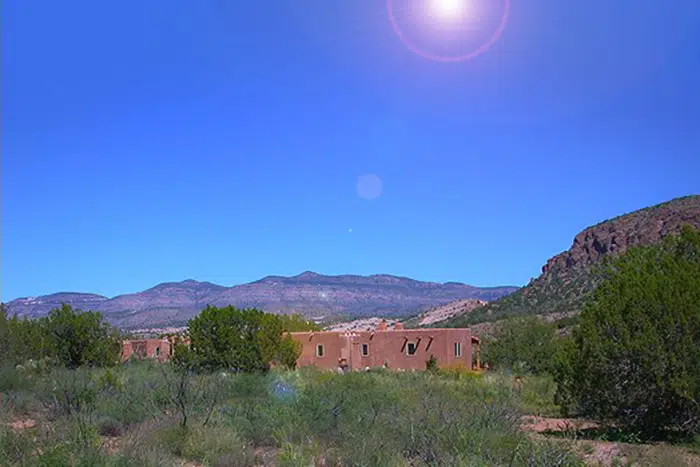 In their spare time, the couple's hobbies keep them busy. Michael paints landscapes – both small and large format. His oils and Becky's handcrafted turquoise and gemstone jewelry are among the local offerings at Casitas de Gila gallery, part of the bed and breakfast experience.
Ultimately, the marriage of the couple's backgrounds – the natural world and business – has enabled the O'Connors to do what they do for as many decades as they have. "The Internet has been the biggest change since we started in Ireland," says Becky. "When we opened there, all our guests were European. Then the Internet came and Americans and others began to find us. Here in the Gila, guests come from all over the world because the Internet has made rural tourism possible. We don't think we could be in this remote location without it."
CASITAS DE GILA GUESTHOUSES • Becky & Michael O'Connor
50 Casita Flats Rd • Gila, New Mexico 88038575-535-4455
www.casitasdegila.com • info@casitasdegila.com
Facebook: CasitasDeGila • Instagram: #casitasdegila