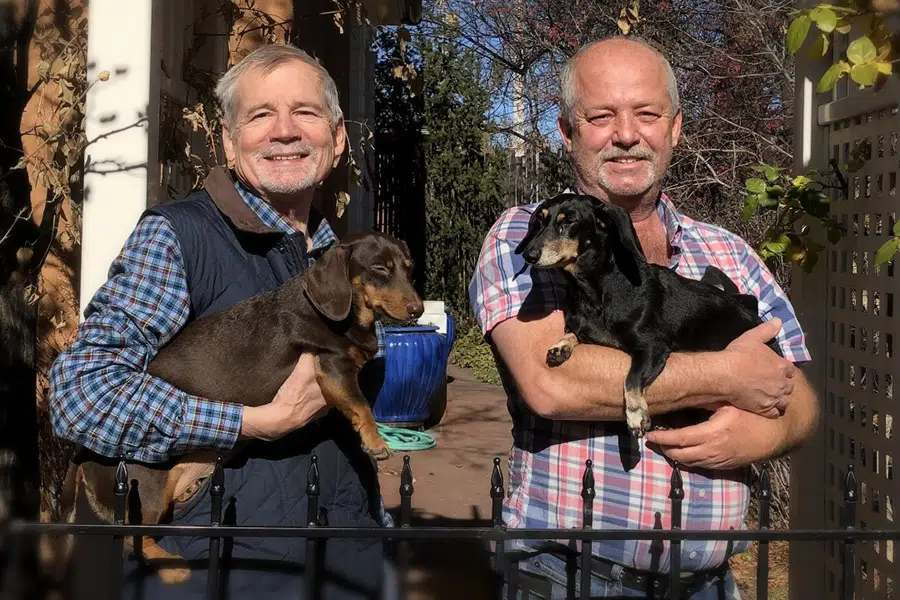 Wayne Mainus and Walt Wyss welcome guests to their two Santa Fe inns, El Farolito Bed & Breakfast Inn & Four Kachinas Inn. Their journey from geology and environmental engineering to running two bed and breakfasts just blocks from each other in the heart of the City Different is a fascinating one.
The couple met in California, where Wayne was a consultant for franchise owners of a retail chain store. Originally from rural Pennsylvania, he says he wanted to get as far away as possible for college. "I went to the University of Arizona and got a geology degree, which led me to Colorado. Then the company I was with got bought out and I moved to California. From there I went into retail/hospitality – as a wine steward, a grocery store manager, and finally a consultant."
Walt grew up in Oregon, studied environmental engineering in the Midwest and found his way to California. When the pharmaceutical company he was working for was purchased by a foreign business, his job was eliminated.
"What was I going to do in my 50s, I asked myself," he says. "We started considering a small business, and liked the idea of an inn – it's a financial investment that is secured by its real estate, and when run well can be a good profitable business. It was definitely my idea to become innkeepers, but ultimately a mutual one. We both wanted to do something different."
In talking to innkeepers in California, pair learned that they didn't want to be in a place that was too weather dependent. They also took a few seminars, stayed at inns and asked lots of questions.
Before landing in Santa Fe, the couple researched properties in California, Oregon, Arizona, and even Savannah, Georgia, as well as New Mexico. They'd been visiting Santa Fe for a while, and Walt already had an interest in Native American art and history because of his roots in the Pacific Northwest.
"Our first look at El Farolito, which we bought in 1997, was very different than it is now. It looked like a drive-in motel, with cars parked in front of each of the five separate buildings. But the more we looked at other properties, the more we came back to it. And we liked Santa Fe because the town has a lot going on that is not dependent on a good snow season. Santa Fe has year round appeal to visitors with music, art, restaurants and other cultural activities," Walt says.
Part of Santa Fe's appeal was definitely the performing and visual arts scene for which the city is famous. "And that Santa Fe is a lot like being in a foreign country without being in one. Everything – the architecture, the food – is so different here from anywhere else in the country," Wayne adds.
Wayne tends to focus on duties at El Farolito, helping prep breakfast and host and serve, and do maintenance. He deals more with employees and schedules. Walt spend much of his time at Four Kachinas, which they purchased a couple of years after El Farolito. He handles financial tasks, marketing, purchasing, and errands. The two split gardening and maintenance, leaning on what each is good at and what they like.
Walt is finishing up board service of Select Registry, a national, quality membership organization for bed and breakfasts. "I've learned so much about what's happening in the business, how to market properties, and keep up with what the top properties in the country are doing for customers. All so that we can implement them in our own way," he says.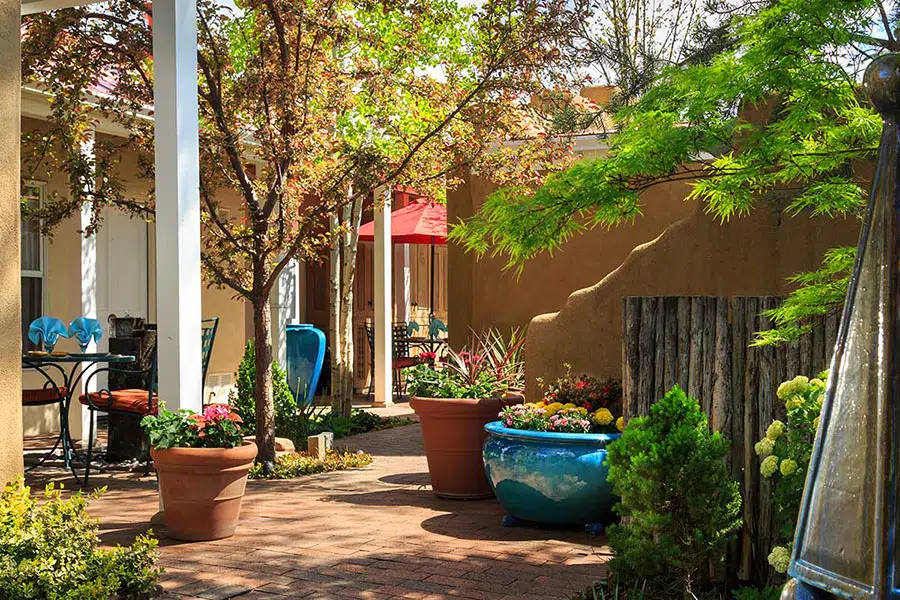 Select Registry encourages members to create a strong local presence to each inn. "We like to think that when visitors come they know they are in Santa Fe and New Mexico, and not somewhere else. The local art, food, history, décor at both El Farolito and Four Kachinas points guests to the authenticity and unique place this is," Walt concludes.
EL FAROLITO BED & BREAKFAST INN • Wayne Mainus & Walt Wyss
514 Webber Street  •  Santa Fe, NM 87501  •  505-988-1631
farolito.com • innkeeper@farolito.com
Facebook: ElFarolitoBedandBreakfast • Instagram: #elfarolitosantafe
FOUR KACHINAS INN • Wayne Mainus & Walt Wyss
512 Webber Street  •  Santa Fe, NM 87505  •  505-982-2550
fourkachinas.com  •  info@fourkachinas.com
Facebook: FourKachinas • Instagram: #fourkachinasinn