The Swedish Dala horse brings good luck as the symbol of the Red Horse Bed and Breakfast in Albuquerque's South Valley. With a little luck from the Dala horse, you can experience the good fortune of a retreat at Red Horse Bed and Breakfast, says Darlene Capshaw, co-owner of the B&B. She, her husband Phil, daughter Kat and father Carl opened the bed and breakfast in 2015 to both preserve her family's farm heritage and honor the legacy of hospitality of the family's German and Swedish patriarchs, Donna and Carl Londene.
Opening a bed and breakfast was a dream we fulfilled for my late mother. She was a generous woman who was active in the Sister Cities program in Albuquerque. She constantly welcomed visitors from far away with hospitality and cheer. She and dad also opened the farm for community picnics, Little League games and 4-H activities, sharing what they had with friends, neighbors and strangers. Some of the history can be heard through Carl on our YouTube channel.
It made sense for us to continue sharing the traditions of agriculture here in the South Valley with visitors and what my parents started. We were raised to share whatever we have, whether that's food, talent or a good story.
The five-acre property was originally a ranch and dairy as part of the Atrisco Land Grant, and is still a working farm. This is a five generations family farm – my dad had racehorses and baled hay up and down Isleta – the pre-1937 Route 66. And now, my grandson carries luggage and welcomes guests alongside us.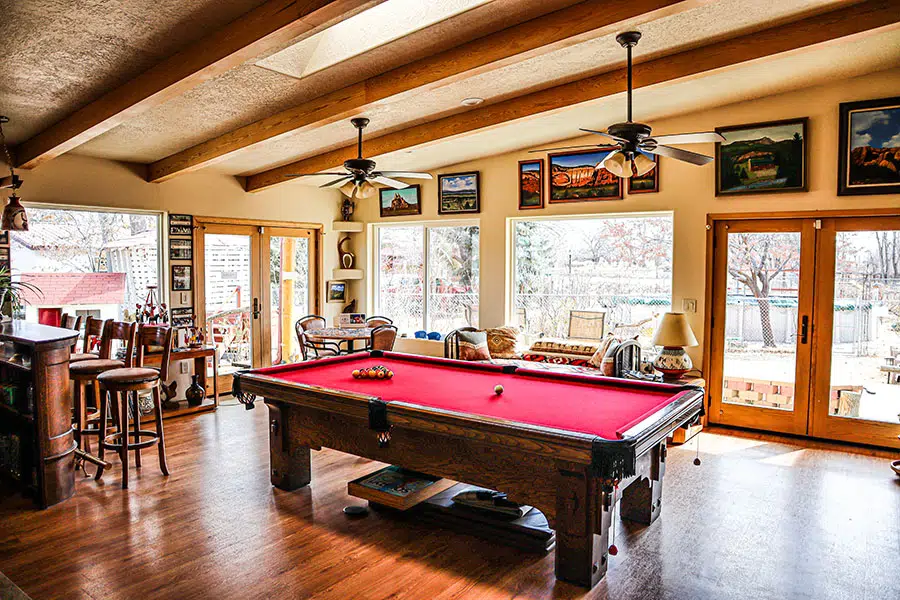 Guests can be part of the life of the farm if they want to be, because we're working in a sustainable way right in the middle of an urban area in the fertile Rio Grande Valley. Grapevines and fruit trees, and a large vegetable garden provide plenty of fresh, canned and preserved produce for guests to enjoy year-round, whether that's apple butter or apricot preserves, tomato sauce, or grapes and grape juice made with our ancient wooden grape crusher. We have animals to enjoy: pigs, Nubian goats, cows, horses, and chickens for eggs.
Every room tells a story here, with all the amenities visitors expect. Phil is Scottish and English and we lived in England for a while, so the English Rose room is furnished with European antiques, luxury lace and velvet drapes. The Heritage room features bright and crisp Swedish design accented with personal treasures from Germany. The Old West Suite is filled with antique and cowboy items, including Dad's chaps and lariat. The Sunrise Suite is a nod to the indigenous peoples and history of the area, decorated with Native American pottery and Southwestern paintings reflecting the beautiful New Mexico landscape. We're also one of only a few bed and breakfasts in the state that has accessible facilities, and a swimming pool and hot tub.
Red Horse is only minutes from the Albuquerque airport, Downtown and historic Old Town, too. There's easy access to area attractions like the Albuquerque BioPark, Zoo and Aquarium. For those who want to savor the quiet of our relaxed rural setting, we do offer all-inclusive farm stay experiences, and our ceramics and art studios allow visitors to create pottery, wood crafts and paintings. Of course, we're a perfect spot for weddings, family reunions and gatherings.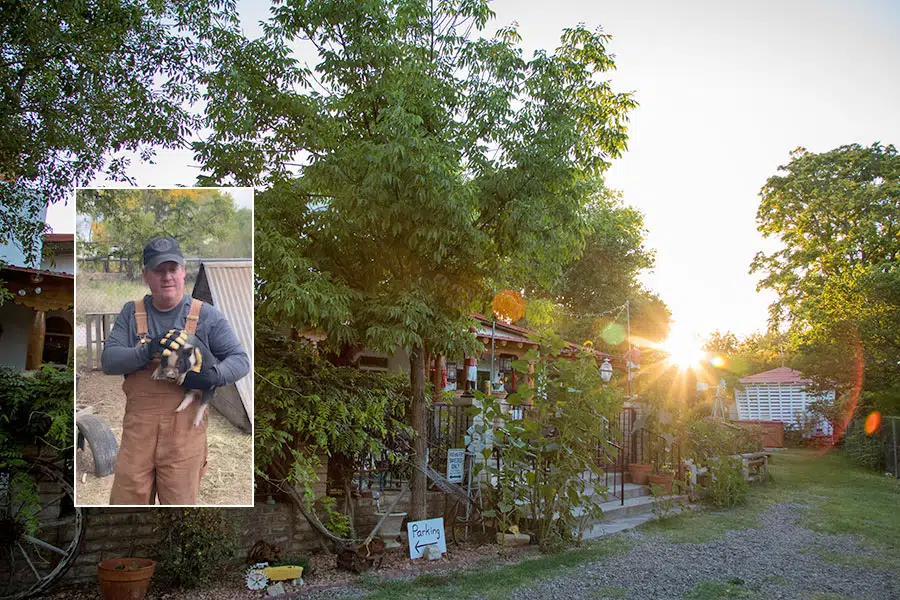 Our goal is to preserve a simpler way of life in the face of urbanization. Red Horse looks back to a time when tending to animals and gardens, watching the sunsets and enjoying family meals around a big table was the norm. And it's how breakfasts here are still served. I enjoy talking to guests through the pass when I'm cooking.
I love the effect that this place has on people. We see it on their faces. They arrive tired from traveling or carrying weight of the world. You literally hear their relaxing breath. Some come for a week with plans to see all the area attractions, and we find them sitting on the porch the whole time!
RED HORSE VINEYARD BED & BREAKFAST • Darlene Capshaw
2155 Londene Lane SW • Albuquerque • 505-967-7610
www.redhorsebb.com • info@redhorsebb.com
Facebook: RedHorseBB • Instagram: #redhorsebnb