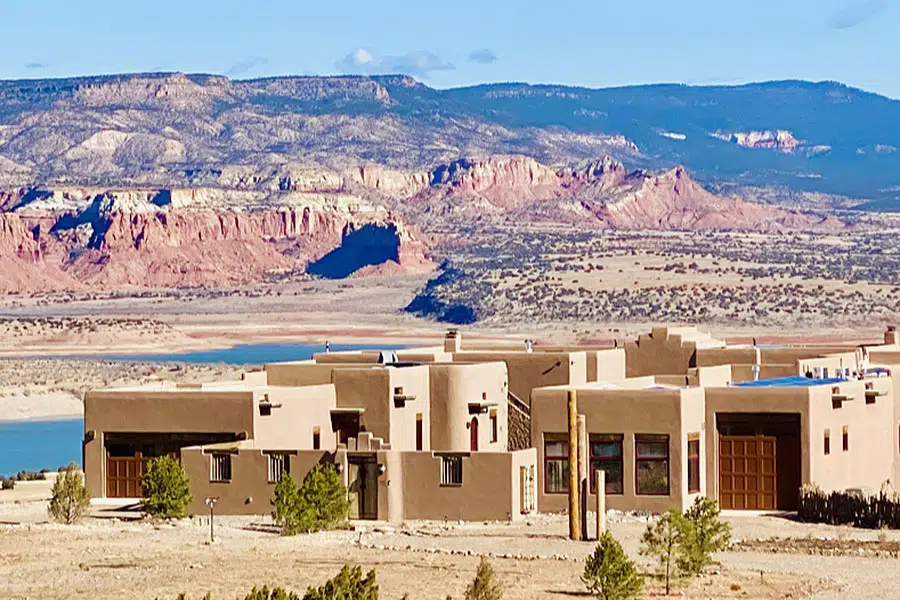 Abiquiú, a small village in Northern New Mexico, has a long history that includes dinosaurs, Native American Puebloans, Spanish colonists, artist retreats and more. The beauty, history and culture had attracted Carolyn and Tom Calfee for many years as vacationers before they made the area their permanent home. Carolyn retired from a career in the financial industry and Wall Street, while Tom, an architect, combines his experience and love of design with his duties as innkeeper. They now share their passions with guests of The Grand Hacienda. Their purpose-built bed and breakfast, uniquely positioned on a mesa overlooking Abiquiu Lake and its red cliffs, opened in early 2020. Feeling a million miles from the modern world, The Grand Hacienda boasts authentic architecture, and reflects the Calfees' sustainable living goals.
Tom: We admit it, our closest friends and family thought we were crazy when we decided to open a bed and breakfast in the middle of a remote desert wilderness. And planning and building The Grand Hacienda was a three year labor of love. Our goal was to combine traditional New Mexico architecture with modern technology and a green footprint, while respecting this amazing land that was once inhabited by both Tewa Puebloans and Navajo peoples.
It was important to ensure a healthy, sustainable and green footprint. We blocked electromagnetic fields from the rooms, used 'earthing' concepts to ground the floors, installed 32 solar panels, and capture rain and grey water to irrigate trees and flowers. Hybrid solar water heaters in the greenhouse pull heat to warm our floors.
Every guest suite is unique, too, with private entrances, private outdoor portals, spectacular lake and red cliff views, and all modern amenities. Visitors enjoy a shared full kitchen, great room with a kiva fireplace, lots of outdoor spaces, a hot tub overlooking the lake, a cold-water soaking area, fire pit, bocce ball court, Jenga and more.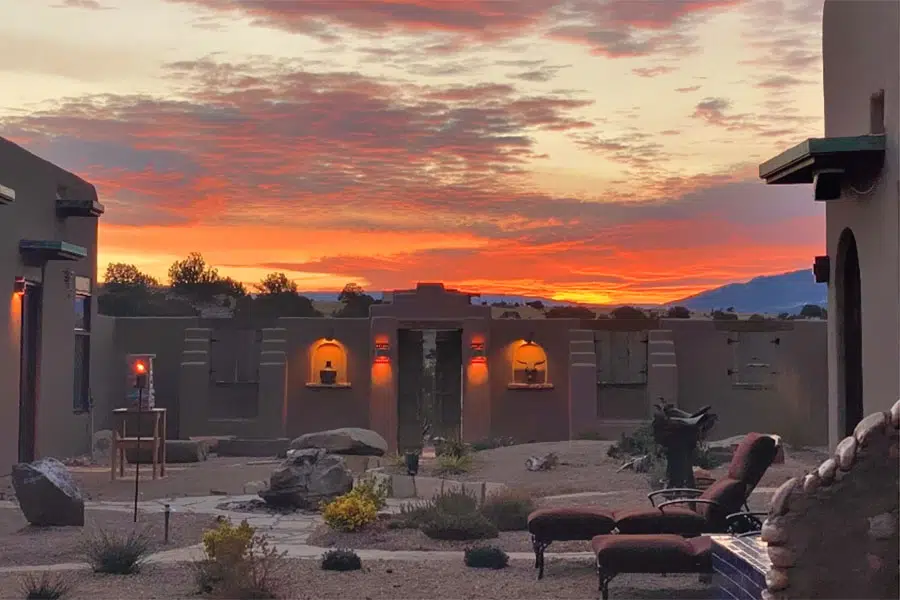 Carolyn: The experience is what's most important. As a new bed and breakfast experience – a small, intimate inn – you can meet new friends, or choose a romantic getaway with privacy. In fact, you can drive for 45 minutes in any direction before you'll encounter a traffic light!
That luxury experience starts with a gourmet three-course breakfast and better-than-Starbucks coffee, lattes, cappuccinos and espressos. Our menu changes daily, featuring fresh vegetables and herbs we grow year-round, and eggs and produce sourced locally. We end each day with a dessert treat or happy hour, often star gazing through the telescope, stories around the fire pit, or a bocce ball match.
Tom: What happens in between – whether adventure or relaxation – guests create! From our private, secluded perch overlooking Abiquiú Lake, the Rio Chama and Ghost Ranch, The Grand Hacienda is a launching pad for a long list of things to do and see. But they quickly realize they are in a special place, with an absence of noise and light pollution, where eagles fly overhead, and simple stillness. Many choose not to leave the property!
And they don't need to with our on-site Mercado gift shop's selection of snacks, drinks and food items. We also offer catered dinners on-site. Staying remote, with natural isolation, has never been so easy.
Carolyn: We've worked hard to make The Grand Hacienda a destination in and of itself. Hike our 42 acres through arroyos and down to our two lakefront lots for fishing, swimming or kayaking, join us for wine tastings, or watch the Milky Way from the hot tub. Or, relax and unplug on your private portal with a fire.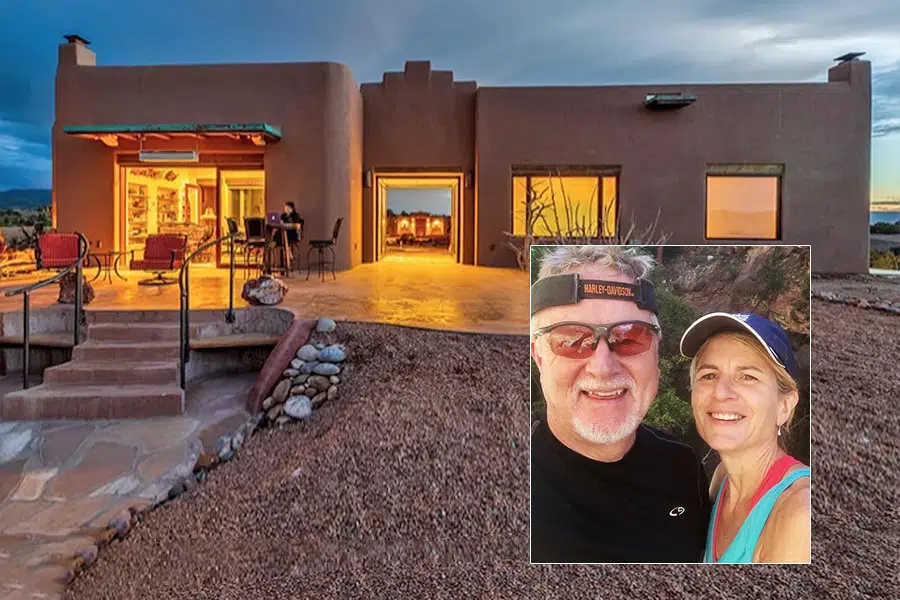 Our concierge services will help you explore previous generations at Bandelier National Monument or Puye Cliff Dwellings. Or experience the amazing potters at our nearby pueblos and the talented artists that now call Abiquiú home. Experiencing these cultural elements helps validate why this land is so special and sacred.
Tom: We love welcoming back our guests after a day of adventure, tired yet exhilarated, knowing they soon will be soaking in the hot tub or lounging on their private portal with a good book or sketch pad.
Our guest experience is exactly what we ourselves would expect at a luxury property. That's why we're pet free, and guests must be at least 16 years old. This is a vacation where you can truly relax and leave rejuvenated.
We love meeting our guests and sharing our knowledge. Honestly, most of our guests arrive as strangers and leave as friends. What a gift for all of us.
THE GRAND HACIENDA • Carolyn & Tom Calfee
5 Los Ojos Drive • Abiquiú Lake, NM 87064 • 575-425-0663
www.thegrandhacienda.com • thegrandhacienda@gmail.com
Facebook: thegrandhacienda • Instagram: @thegrandhacienda • Twitter: @grandhacienda