Experience Unique History to Explore Over Three Distinct Sites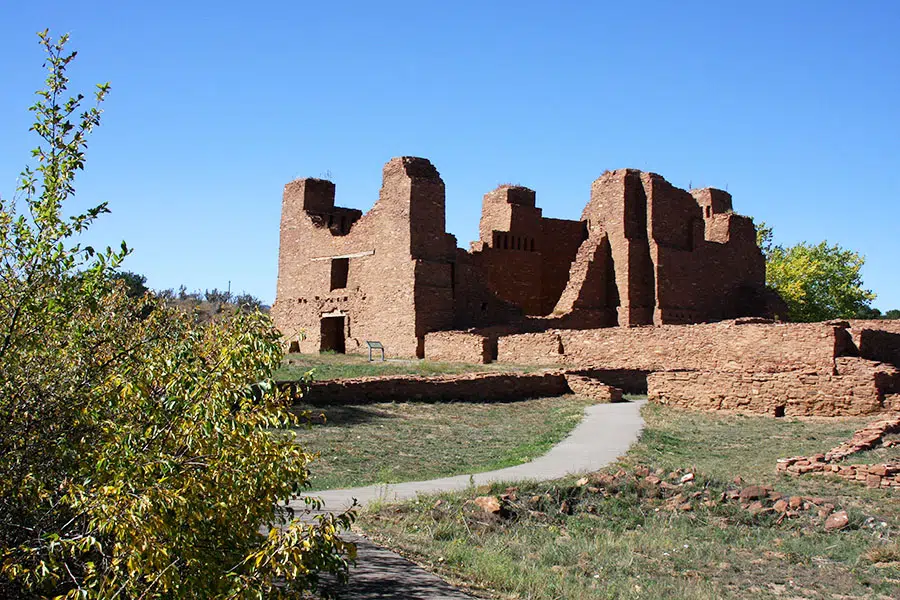 Central New Mexico was once the home of thriving civilizations that revolved around 17th century Franciscan Missions. These missions changed the course of history for many people. They were also frequently threatened by raiding parties. Many buildings and remnants of buildings have been unearthed and preserved, allowing for visitors today to explore and learn about a unique part of New Mexico history at the Salinas Pueblo Missions National Monument.
Wildlife is plentiful in the area. Quarai (pictured) is especially known for fantastic bird-watching opportunities. While most mammals visit during the evening hours, you might be lucky enough to spot a porcupine, badger, black bear, or coyote. Other kinds of animals are easier to spot, even if they aren't always the type that people want to see. Try to take time to sit and watch for a tarantula, desert centipede, praying mantis, or Jerusalem cricket. Keep an eye out for lizards and rattlesnakes. It may seem like no plants could possibly live in these conditions, but something has to feed the animals (and helped to feed the first people to live in the area). Yucca, chokecherries, currants, gooseberries, and buffalo gourd all grow in abundance here.
The monument sites are lovely places for a picnic. They also offer the chance to get some exercise while on a short hike along the interpretive trails. The best part about the outdoor and exercise time here? It's free! There are no fees to enter the monument but don't blame us if you find the perfect gift for yourself in one of the gift shops or bookstores.
What You Will Find at Quarai:
The remains of a mission and convento built between 1627 and 1632.
A mysterious square kiva inside the convento. Kivas are typically circular. While the reason for the square shape is uncertain, it is possible that Spanish missionaries used it to convert western Pueblo groups who commonly used the shape.
The remains of a defensive Torreon, Lucero family structures, and a Manzano church. All of these structures were built in the early 1800s when settlers returned to Quarai after abandoning it in 1678.
The one-mile Spanish Corral loop trail is full of natural beauty. It loops through a piñon-juniper forest. Bring sturdy walking shoes.
What You Will Find at Abó:
This site sits on 370 acres west of Mountainair.
There are a large number of pueblo mounds that suggest a successful community when the Spanish first arrived in the late 1500s.
The remains of a church and convento that were completed in 1628. A larger church was built around the small church in 1658. Like Quarai, there is a square kiva at this location.
The remains of a fortified ranch built between 1815 and 1830 when sheep herders tried to return to the area. Apache raiding forced abandonment of the structures in 1830.
A second reoccupation was successful starting in 1869. The Sisneros family continues to live in the area. Remains of their first structures can be seen along the Abó interpretive trail.
A petroglyph tour is available if you contact them in advance.
What You Will Find at Grand Quivira:
This is the largest of the Mission areas. It spans 611 acres.
Mound 7 is a fully excavated pueblo containing 226 rooms. Construction on the pueblo began in the early 1400s. Various groups added rooms to the pueblo until 1629.
Pots, water jugs, animal effigies, and stone tools found in Mound 7 are on display in the Grand Quivira museum.
Eight rooms of Mound 7 were used as a convento by the Spanish. These rooms illustrate the difference between the pueblo and Spanish use of the rooms.
An interpretive trail brings visitors on top of Mound 7.
The site houses two mission churches. The excavated remains of Iglesia de San Isidro have an attached walled cemetery.
While Grand Quivira is the most remote of the locations, it has amazing views from atop the mesa.
This site offers visitors the chance to be in the same place as a notorious outlaw. Billy the Kidd is known to have passed through Grand Quivira with his friend John Meadows. According to the story, Billy made certain to leave the ruins untouched while staying there overnight.
Tips for a Great Trip:
Stop at the main visitor center in Mountainair first to get a quick overview of the monument. That location has a 14-minute educational film about the history of the three cultural sites. It is also a great place to use the restroom after your drive.
We are all so accustomed to using our phones for everything. You will typically have cellular reception in the town of Mountainair but the other sites are remote and have little to no coverage. Make sure you plan ahead. For example, if you are meeting another group at one of the sites, set a time in advance rather than depending on being able to text each other.
The Visitor Center for the Salinas Pueblo Mission National Monument, located in Mountainair, is about 1-1/2 hours from Albuquerque and 2 hours from Santa Fe. When you stay with one of our Albuquerque or Santa Fe member inns, the innkeepers will be happy to provide more information for your day-trip to Salinas Pueblo Mission National Monument.
For More Information, visit the Salinas Pueblo Missions National Monument website at https://www.nps.gov/sapu/